Regular price
Sale price
$8.99 USD
Unit price
per
Sale
Sold out







Acetone-Free + Low Odor + Eco-friendly


Gel formula stays in place on nail for easy removal


Cruelty-free + Vegan


Made in USA


Works with any nail polish, especially SOPHi Nail Polish







Directions for use:
On protected surface, apply a drop of SOPHi Remover Gel to each fingernail and spread to edges of polish. Allow to soak on nail for 1 minute. Use paper towel to remove nail polish. For hard to remove polish, repeat as needed. For best results, use with SOPHi Nail Polish Remover Sticks (now available). The remover sticks help to lift and peel the polish from the nail once the Gel Remover has soaked through.
*For more porous nails, SOPHi Nail Polish can be more difficult to remove. Use SOPHi Nail Polish Remover Gel to help soften the polish and then peel with SOPHi Nail Polish Remover Sticks or any orange stick. Soaking nails in warm/hot water can also assist with the removal process, as the heat may help the polish to lift.
Ingredients:
Methyl Acetate, Algin, Aloe Vera, Vitamin E
View full details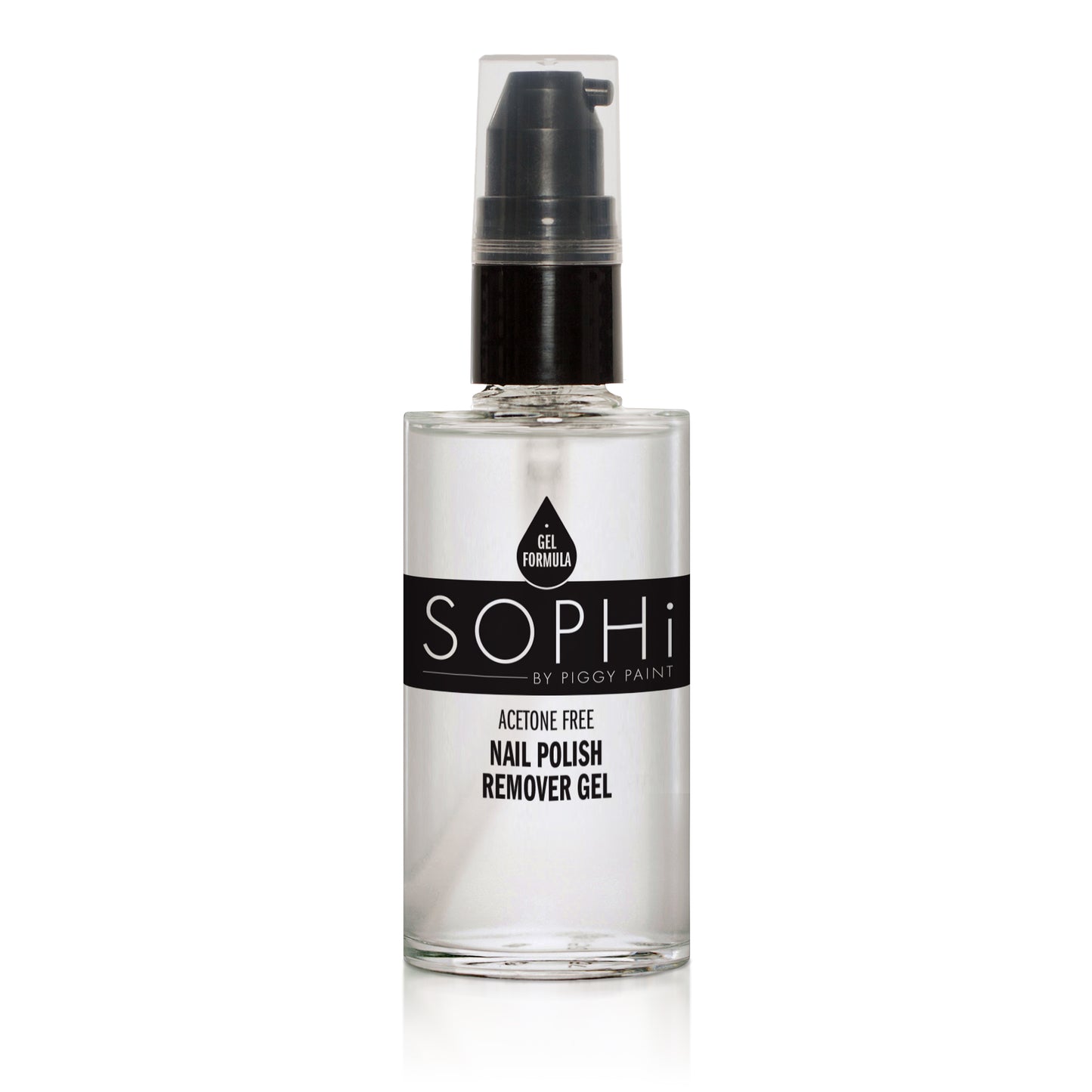 Works Very Well, But You Need to Approach This Product Differently
Do NOT go into using this product with the mindset of how conventional nail polish removers work. That will lead to disappointment and frustration. Instead, work with the product, and it'll work for you. The directions were a great place to start, but I found a more effective way to use this remover. Apply a generous pump, but instead of letting it soak on the nail for a bit like the directions suggest, use an orange stick (or a cuticle pusher) and IMMEDIATELY begin pushing and scraping the polish off WITH the gel. If the gel dries in the process before the polish is all removed, apply another dollop until the polish is all gone. Think of it like how a soaked cuticle is easier to remove, and more challenging to remove once it's dried off. The gel remover is your friend if it's still in blob form on the nail, the polish comes off easily. If the gel dries, it's not so easy. Scrape the polish off with the blob of gel at the same time and it's MUCH easier. Now that I've cracked the code on how to remove this brand's polish (and it did take a hot minute), I'll never go back to conventional nail polish. Trust the process and realize that a mindset shift is required when using this line of products. Once you get that down, you'll be very happy with the line. I know I am!
Had to wait
I had to contact the company about my shipment. Some confusion about one of the items in my order….not being back ordered and they were waiting on it; instead product will not be backfilled. So I had to take initiative to request info about not receiving any shipping info, had one of my items canceled of which I was not informed until being told it was being shipped, received a refund for that product but was not allowed to choose another option, etc. Not a good first impression as this was my first time ordering from this company. I have used the products I ordered - several polishes and a top coat. Everything was good, zero issues with the products. Unsure if I will risk it again - certainly not if I am in any kind of a rush to receive the products.